JOSAtulum Lifestyle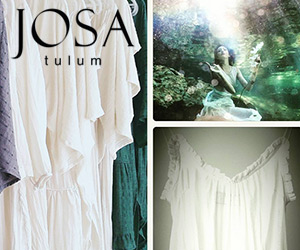 JOSA tulum is a lifestyle clothing brand that is inspired by the calm beaches of Tulum, Mexico, and the sophisticated, chic style of vintage travel.
The JOSA dress reflects the simple, carefree Tulum lifestyle, yet also possesses the fashionable sophistication of the New York scene. The line mainly consists of several dress styles, all of which are wrinkle-resistant and one size. With styles and shapes that are complementary to all body types, everyone will find a JOSA dress that fits to perfection. The goal and concept of JOSA is to provide women with dresses that can be tossed into a beach bag in the morning and are there on hand throughout the day as a cover-up, yet are stylish and sexy enough to take you into the evening hours for a late cocktail or a glamorous dinner – the perfect go-to dress for all occasions.
To accompany and compliment these dresses, the JOSA brand includes a line of accessories that consists of beach totes, beach blankets, hats, scarves and vintage-inspired jewelry. The style and inspiration are consistent with the idea of the dresses – essential must-haves for the beach. JOSA tulum is inspired and designed for a contemporary, elegant woman who is fashionable and naturally comfortable both on the beach and in the city.