☀ Win an Omni 360 Cool Air Mesh! ☀

Hello Spring! Hello Omni 360 Cool Air Mesh!
Just in time for Spring, keep baby cool on all your sunny adventures! The mesh version of our most versatile baby carrier, the Omni 360 Cool Air Mesh is available to pre-order now.
Breathable Mesh. Designed with soft, durable and breathable mesh to keep you & baby cool year round.
Face Out or In. Effortlessly switch baby to face out or face you on the fly with our innovative sliders.
Easy to Adjust. Easily adjust to ergonomically fit your baby from newborn to toddler (7-45 lbs.), all-in-one.
Comfortable. With lumbar support and extra-cushioned crossable shoulder straps, the Omni 360 Cool Air Mesh gives you and your baby amazing comfort for years to come.
---
Two Chances to Win One of Your Own!
Spring Time Giveaway
Spring has finally arrived, reminding us of new beginnings and the sweetest scent in the world,  babies. Usher in this beautiful time of year with a fun chance to win some fresh items for you and baby.
Oat Mama $75.00 Shop Credit
Belly Bandit Mother Tucker Corset
Loved By Sophia Claire $75.00 Prize Pack
Bannor Toys $75.00 Shop Credit
Billy Bibs $75.00 Shop Credit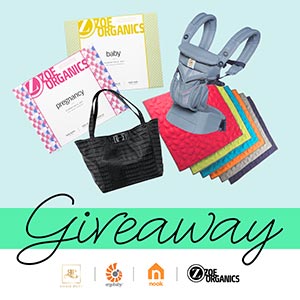 Nordstrom Celebration Giveaway
Our friends Zoe Organics are celebrating their first shipment to Nordstrom! We are helping them celebrate with a giveaway. Head over to their Instagram page for a chance to win this amazing bundle of brands, all featured on Nordstrom:
Pregnancy Gift Set and Baby Gift Set from @zoeorganics
Lilypad2 from @nooksleep
Warren Tote from @rosiepope
Join Our Community
We're excited to see your comments, photos, videos, and links about our products. Please share with us at Ergobaby and each other!
#InMyErgo