Winter Box of Style Sold Out! Plus $10 Off Coupon Code

Please note that due to it's popularity, the Winter Box of Style by The Zoe Report is now sold out! We would like to thank all of our Affiliates for their efforts with the Winter Box.
The Spring Box orders are now being taken and we expect another season of fabulous style to follow!
Stay tuned for news on when the Spring Box will be revealed so you can start promoting it before it sells out.
If you are interested in receiving a Box for product review, or a 'vanity' discount code, please send a media kit or information on your following, as well as a brief description on how you would like to promote it.
You may continue to use your $10 discount code: "BOS10". There is no current expiration date associated with this code, and we will keep you posted on any changes.
Please note, if you have been assigned a 'vanity' discount code, it is not currently valid. We will send you a follow up to let you know when it has been reactivated for Spring. In the meantime, please feel free to use the BOS10 code.
If you are not already an affiliate for this program, please submit your request here.
If you are a blogger, please mention the winter box being sold out and encourage your visitors to pre-order the spring box now.
If you are using a banner for display ad, please make sure you are using one of the generic banners (example below).
Click to login to your affiliate account: ShareASale, Avantlink, SageTrack, Pepperjam, AffiliateWindow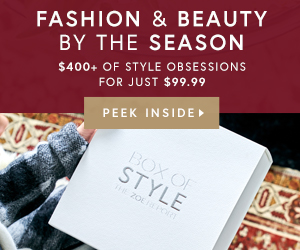 About Box of Style by The Zoe Report
Box of Style is a seasonal subscription curated by The Zoe Report Editor-in-Chief Rachel Zoe and her team. Each season, stylish fashion and beauty finds valued at over $400 from established designers, niche brands, and exclusively-designed collaborations arrive at our members' doors for only $99.99 per season. Seasonal subscriptions are $99.99 per quarter and an annual subscription is $349.99 ($50 savings!).