ZippedMagazine Features backstage recap of the Erin Fetherston show, including skyn ICELAND's skincare prep
A BACKSTAGE LOOK: AVEDA'S NATURAL ATMOSPHERE GENERATED TOME'S FIERCE FEMINIST RUNWAY
BY: MYELLE LANSAT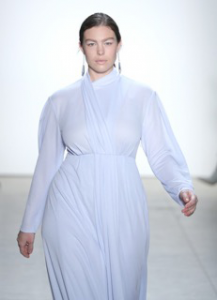 Photos provided by Tome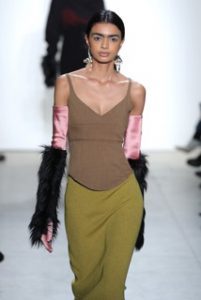 From faux fur to ripe bananas, the animalistic style and raw female power shined in the diverse pack of women strutting Tome's 2017 NYFW runway. On and off the stage felt the fierceness, but backstage Aveda captured the true wild woman as she prepared for the catwalk.
Tome, made by women for women, dominated New York's concrete jungle where one of the fiercest feminist groups, the Guerrilla Girls, have roamed for more than 30 years combating sexism and racism within the art world. In the fierce backstage setting, Aveda's natural, eco-friendly products created a relaxed feel for each woman to get in touch with their inner Guerrilla. Tome showcased a variety of models ranging in body type, ages, and ethnicity, exhibiting equal female empowerment and true sentiment making a roar this season.
Aveda's natural backstage setting was among the tame. The atmosphere was calm Sunday morning, model Natasha Ramachandran is no stranger to Aveda's vibe. She was thrilled to work with Aveda again for the Tome show after her 2016 Split Hair Campaign with the brand. "I have a blast working for Aveda," Ramachandran said during her preshow prep.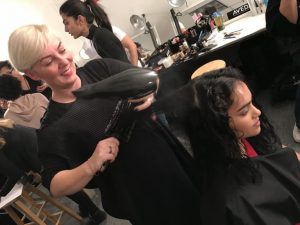 From head to toe, the women were styled to look natural. Steam rolled off Antoinette Beenders' brush as she worked each girl's hair individually. The show's lead hair stylist enriched the model's hair with Aveda's natural hair care products, styling the models to look as they originally did on their casting date. "The whole collection is about women empowerment," Beenders said using Aveda's plant infused smooth infusion style prep, reducing frizz for a natural look.
By showing the raw beauty and realness of each woman, Tome and Aveda generated a message of feminine righteousness and organic uniqueness exemplified through the models. "Each girl is individual and we work with what they already have," Beenders said.
From hair to skin preservation, Aveda organized pre-makeup skin prep with Sarah Kugelman's line Skyn Iceland. Her products are inspired and used with natural elements found in nature. Cleansing and rejuvenating, they leave a cloud-like feel on the skin. She followed with a five-step regimen that featured her new product launch this season. The brightening eye serum is made from plant cells incorporating 20 natural peptides, boosts under eye cells. "Everything is meant to feel like water: fresh and clean," Kugelman said.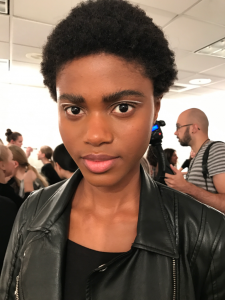 Imade Ogbewi wearing the feather brow insta: @selfmadebarbie22
After renewing their skin, the models headed over to the makeup chairs for their runway essentials with MAC cosmetics. "Everything is about the brow," senior makeup artist Debbie Finnegan said. MAC's creative direction was inspired by Frida Kahlo and her primitive unapologetic unibrow. Three brow techniques were styled using products like MAC's Veluxe brow liner and Ebony eye pencil. All women had a firm white line above the eye socket with either a feathered brow, a misbehaved unibrow, or stark line above the brow itself.  "It has a quiet strength and simplicity that makes a strong statement," Finnegan said.
As the first look drew close, the Aveda preshow team put their final touches on the models- leaving a mark of the jungle on each girl. The fierce and feminist Tome women embodied nothing but female pride opening the show. One model even wore a pin down the runway stating, "fashion stands with planned parenthood".  Tome's 2017 collection is a banana to the inner Guerrilla- high in energy, satisfying all feminist hips and lips.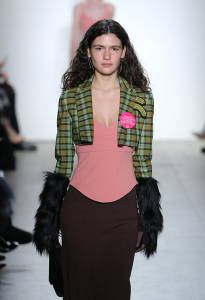 Provided by tomenyc.com
BACKSTAGE PHOTOS PROVIDED BY MYELLE LANSAT
Myelle Lansat is a junior magazine major specializing in fashion and beauty. She can be reached at Myelle.lansat@gmail.com
Login to your affiliate program: SageTrack, Avantlink, Shareasale, rewardStyle
If you would like to become an affiliate for this program, please submit your request here.